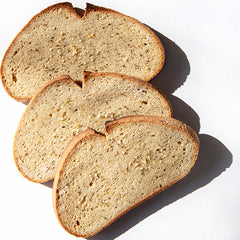 We could have called this the 'Amazing Disappearing Garlic Bread' recipe because you won't have to worry about leftovers with this delicious side. Both a crowd pleaser and a gluten and grain-free twist on a beloved classic, we're sure you'll love this easy, mouth watering bread as much as we do! 
Follow these easy steps

Use a slice of Everyday or Rosemary Bread

Slather with ghee or butter.

Add as much fresh garlic as you like!

Double or triple toast in a toaster oven or bake at 350 until the edges turn golden brown!
** Next Level - add a sprinkling of parmesan cheese before toasting! 
Pair with soup, gluten-free pasta, harvest bowl or (even better) enjoy on its own. Because it really is that good!!!