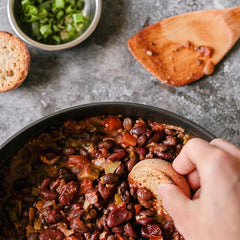 I just love @kaileeinthekitchen's dedication to creating and enjoying food!!! Here is her delicious chili recipe and fun story. Don't forget that our Everyday and Rosemary Minis go perfect!
"I brought a thermos of this chili to school. When I was ready for lunch, I could not get it open. I had to swallow my pride and ask my professor and entire class for help, all of whom also could not get the thermos to budge. I spent 45 minutes after trying to get help because I was fully devoted to breaking into this chili. I finally did it!!!. I fought the good fight, and it was worth every second of turmoil. It's a classic chili, but it's that good."
Ingredients
1 can black beans, drained and rinsed
1 can kidney beans, drained and rinsed
1 cup chicken/veggie bone broth
1 cup water
1/2 cup chopped bell pepper
1/2 cup chopped white onion
2 Roma tomatoes, chopped (1 cup)
4 cloves minced garlic
3 tbsp olive oil
1 tsp cumin
1/2 tsp dried basil
1/2 tsp hatch chili powder
1/4 tsp ancho chili powder
Sea salt and black pepper to taste
How I Did It
Heat a pot or sauté pan on a medium-low flame
Add the olive oil, chopped bell pepper and chopped onion and cook until the onion is translucent
Add the minced garlic and spices (cumin, basil, chili powders, salt and pepper) to the pan, cooking for about a minute, until the garlic begins to golden
Pour the broth, water, beans, and chopped tomatoes into the pan and mix everything together
Allow to cook on a low flame until it the chili comes to a boil
Remove from the heat and serve immediately or allow to cool before storing in the fridge. Enjoy!
And don't your Everyday or Rosemary Minis!
Recipe by @kaileeinthekitchen