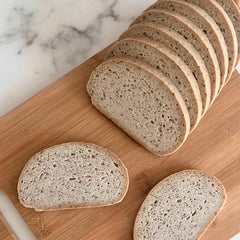 So your delicious bread has arrived but you might be wondering… How do I take care of it? We have some VERY helpful tips and tricks for getting the most from your bread.
Slicing
If you want to get a little guidance with your slicing, we love this bamboo bread slicer with 3 different thicknesses and a bread knife on Amazon.
Love Our Creative Customers!
Look how Richard & Audrey take slicing to a whole new level! Every few weeks, Audrey stops by to pick up her order (she is wonderful!). Richard was given the task of slicing the bread before freezing. He decided to try out a Deli Food Slicer. The results are amazing! Thank you Audrey & Richard for sharing these wonderful photos. 
Storing 
Place bread in an airtight container. We love Stasher bags. Keep bread and loaves in the fridge for 2-3 days and then freeze. We highly suggest slicing before you put in the freezer. Place Rounds and Minis in the freezer upon arrival. All products can be frozen up to 6 months. TIP: cut out the label and place it in the airtight container as a quick way to see the flavor.
Serving
Please toast 1-3 times depending on thickness, the thicker the bread the longer to toast. Slice Minis is half or thirds. Toasting changes the flavor and the texture. TIP: when using frozen bread, just toast an extra minute to defrost. 
ENJOY!!!!