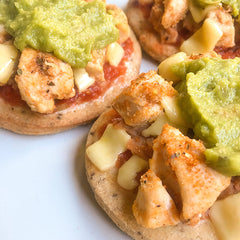 Our Mexican Pizzas are super easy to whip up and the perfect way to satisfy your south of the border craving. These little amigos go especially well with Siete grain-free chips. Muy bueno! 
Ingredients
Red Salsa
Pinto Beans
Diced cooked chicken
Taco seasoning - sprinkle on the chicken
Your favorite cheese
Guacamole
Whatever you like!!! 
 Instructions
Layer the toppings. We add salsa first and then stack up.
Place on a baking sheet in the oven on broil for 5-8 minutes.
Let cool for a few minutes.
Top with guacamole and more salsa if you like. Enjoy!