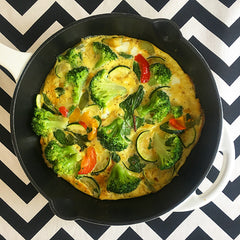 This yummy Veggie Egg Frittata is perfect for every meal and so healthy. Be creative with it by adding your favorite veggies, cheeses, or meats. This is also ideal for making meals ahead of time, fast to reheat and super flavorful. Enjoy a slice of our bread with this "eggcellent" egg dish!
Ingredients

4 eggs
1 medium zucchini (chopped)
1 bell pepper (chopped)
½ cup broccoli
½ cup spinach
1 teaspoon coconut oil or ghee
Sprinkle of salt & pepper
Instructions
Preheat oven to broil.
In an oven safe pan, set stove top to medium heat and sauté bell pepper, zucchini, and broccoli in coconut oil or ghee for 5-6 minutes.
In a bowl, beat 4 eggs. Add salt and pepper if desired. 
In the pan, add spinach and continue to sauté for another 2 minutes.
Pour eggs over veggie mixture and let sit to cook for 2-3 minutes at medium heat, not need to stir.
Put the pan directly into the oven on the middle shelf on broil for about 3-5 minutes until eggs are fluffy and set. Remember the pan handle will be very hot. 
Let sit for 5 minutes and enjoy!! Pair with some delicious AWG Bread!