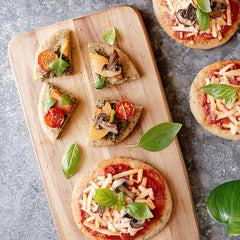 We are PROUD to shout about our Rounds as mini pizzas. Do you know that our Rounds are our 2nd most popular product. Want to know why? They make the perfect mini pizza, yummy! Pizza is just one thing we cannot be without am I right? Get excited and let your creations begin!

PS - Kids love these, and they are great for parties. 
Here is what you will need:
Ingredients
Directions
Broil for 5-7 minutes on a baking sheet. The possibilities are endless!! Delicious!
Recipe by @airwaterandgreens