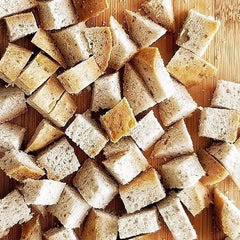 Love stuffing? Need to swap an average bread for a gluten & grain-free option? SIMPLE!

Ingredients
Cube (not too big) 1 AWG Bread (19 oz) or Loaf (32 oz). We love Rosemary! 
Coat in a bit of olive, coconut, or avocado oil along with any desired spices.
Instructions
Now here's where it gets fun! Choose 1 of these amazing ways:
1. Bake at 350F until crispy
2. Toast in a pan on a medium-low flame, tossing every so often to evenly cook
3. Air-fry at 400F for 5 minutes
Add the bread to a stuffing
recipe
of your choosing and continue to follow those instructions!
We also have a delicious recipe for Paleo Mega Umami Stuffing.
- Please click here to read -