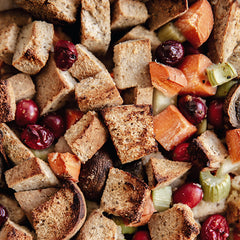 This is one of our favorite stuffings with AWG. It is sure to be a crowd pleaser!
Ingredients
1 Everyday or Rosemary Bread
2 large carrots
3 celery stalks
4 cloves garlic, minced or finely chopped
1 cup veggie broth
1/3 cup mushrooms, sliced
2 tbsp white miso
1 tbsp honey
2 tsp onion powder
1/2 tsp fresh ground black pepper
1/4 cup cranberries
Olive oil to cook
Instructions
Pre-heat the oven to 375F.
Cube an AWG Bread 19 oz. Toss in a bit of olive oil and cook on the stove. The goal is to get them a bit crispy and golden in color!
In a separate pan, sauté the carrots, celery, and garlic in olive oil for a few minutes until they start to soften.
Mix together broth, mushrooms, white miso, honey, onion powder, and pepper.
In a large bowl, combine the toasted bread, veggies, and cranberries. Pour the seasoned mixture overtop and stir to get everything coated.
Place in a baking dish and bake for 25-30 minutes.
Recipe by @kaileeinthekitchen